---
CHAPTER 4 - LULC DYNAMICS: THE COLONIZATION IMPACT
---
4.3. Land-Use/Land-Cover (LULC) dynamics
4.3.3. Do communal forest reserves make a difference in Machadinho?
The existence of communal forest reserves managed by local rubber tappers in Machadinho is an important factor in producing a distinct outcome in terms of LULC change, as shown above by the difference in forest cover between the two settlements. However, when only private lots are considered, Machadinho's forest cover is similar to Anari's: 83% in 1988, 65% in 1994, and 51% in 1998. These results clearly indicate how the combination of private lots and communal reserves can produce significant effects in the maintenance of forest cover when considering the entire settlement as the unit of analysis.
Machadinho had fifteen State Extractive Reserves decreed in 1995 and one State Forest for Sustainable Management decreed in 1996 (Olmos et al. 1999). However, all of them had already been implemented as reserves during the settlement creation by INCRA in 1983. Figure 6 illustrates their location within the settlement. Five reserves are responsible for 75% of the area decreed as reserves: Aquariquara (25%), Castanheira (15%), Maracatiara (14%), Angelim (13%), and Massaranduba (8%). Figure 60 illustrates graphically the percentage of each forest reserve in relation to the total area of reserves in Machadinho.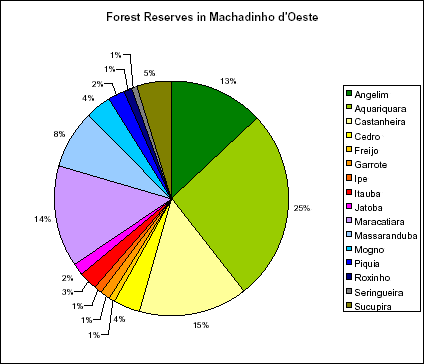 Figure 60 - Percentages of each forest reserve in relation to the total area of reserves in Machadinho d'Oeste.
The total area of these reserves in Machadinho encompasses 68,477.6 ha, approximately 33% of the entire settlement. Their forest cover in 1998 represented 46.5% of the total forest cover in Machadinho. A population of 401 individuals lives in scattered locations within fourteen reserves (Table 16). Their main activity is rubber extraction, which has maintained forest cover, as indicated by the LULC results. Figures 54, 56, and 58 show that the largest portions of these reserves are still covered by forests.
Table 16 - Forest reserves in Machadinho d'Oeste.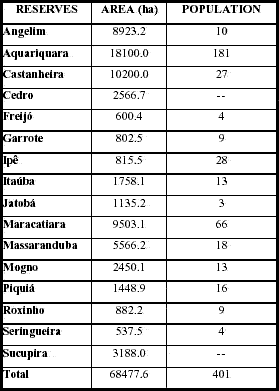 In Chapter 6, institutional factors are related to the management of forest reserves in Machadinho and their role in interactions among actors within the settlement. The importance of these reserves in maintaining lower levels of landscape fragmentation is also discussed.
---



---