---
CHAPTER 3 - VEGETATION STRUCTURE AS AN INDICATOR FOR LAND-COVER DYNAMICS ASSESSMENT IN THE AMAZON
---
3.2. Data collection
A number of techniques are available for obtaining quantitative information about the structure and composition of terrestrial plant communities (Randolph 1997). This research focused on vegetation structure rather than composition because of its effects on different spectral responses of tropical secondary forests (Brondizio 1996, Lucas et al. 1998). Since the main goal was to collect vegetation data to inform LULC classifications based on satellite images, some important decisions were necessary when planning fieldwork.
The first step was to perform preliminary satellite image classifications through unsupervised techniques (Jensen 1996, Lillesand and Kiefer 2000). The results provided a general overview about land cover and spectral variability in the area, allowing the stratification of major classes to be sampled. Archival work also indicated the importance of collecting data about different stages of vegetation regrowth, based on structure and land-use history (Uhl 1987, Brondizio 1996).
Fieldwork was carried out during the dry seasons of 1999 and 2000. Assisted by a team of three graduate students and three local workers, 32 surveys were completed encompassing land-cover classes such as forest, initial secondary succession (SS1), intermediate secondary succession (SS2), and advanced secondary succession (SS3). The goal of surveying these classes was to depict major stages of vegetation regrowth regarding their structure and spectral responses.
3.2.1. Sampling strategy
Once in the field, preliminary image classifications and three-band color composite printouts indicated candidate areas to be surveyed. A flight over the areas provided visual insights about the size, condition, and accessibility of sites. After driving extensively throughout the settlements, field observations provided a sense about the structure of regrowth stages, mainly based on total height and ground cover of dominant species (Lemée 1978, Conant et al. 1983). Indicator species, such as Cecropia sp., Vismia sp, palms, grassy vegetation, and lianas also helped in secondary succession stage assignment. To allow integration with spectral TM data, areas smaller than 1 ha were discarded. As a preliminary baseline, maximum tree heights of 8, 10, and 12 m, and maximum ages of 5, 10, and 15 years were suggested for SS1, SS2, and SS3, respectively. These numbers were assigned by approximation to allocate the formations to be surveyed, thus not necessarily indicating the real boundaries between regrowth stages, as it will be developed and discussed later in this chapter. Also, two plot samples served as control sites. Both of them were cleared from primary forest and then allowed to recover without further interference as part of a regrowth experiment conducted by EMBRAPA. In 1999, one control site was 13 years old (SS3) and the other was 3 years old (SS1).
The procedure used for surveying vegetation was a multi-level technique adapted from CIPEC (1998). The surveys were carried out in areas with relatively homogeneous ecological conditions (i.e., topography, distance from water, and surrounding land use) and uniform physiognomic characteristics (Godron et al. 1968). After defining the area to be surveyed (plot sample), three sub-plots were randomly installed to cover the variability within the plot sample. A sub-plot is composed of three nested squares (Figure 11): one for sampling ground cover and tree or woody climber species seedlings (1 m2); one for sampling sapling information (9 m2); and one for sampling trees and woody species (100 m2). The center of each sub-plot was randomly selected. Seedlings were defined as young trees or shrubs with a maximum stem diameter less than 2.5 cm. Saplings were defined as young trees with DBH between 2.5 cm and 10 cm. Trees were defined as woody plants with a DBH greater than or equal to 10 cm. Height, stem height, and DBH were measured for all trees in a 100 m2 area. Height and DBH were measured for all saplings in a 9 m2 area. Ground cover estimation and counting of individuals were carried out for seedlings and herbaceous vegetation in a 1 m2 area.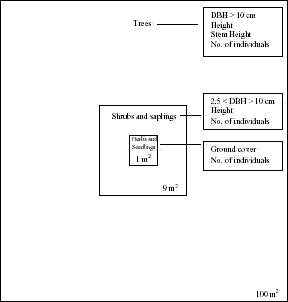 Figure 11 - Diagram of nested squares for vegetation sampling in Machadinho d'Oeste and Vale do Anari.
Based on previous work (Jurdant et al. 1977, Duranton et al. 1982, Brondizio 1996), a survey protocol was used to describe the environment and the vegetation. The protocol encompassed qualitative observations (e.g., topography, soil texture, and land-use history) and quantitative variables (e.g., canopy closure, average canopy height, and vegetation measurements). Some variables were pre-coded in order to maximize the efficiency of data collection in the field (Appendix 1). This procedure provided an objective description about the sites, optimizing later data manipulations. A vegetation profile was also drawn for each sampled plot. Every plot was registered with a Global Positioning System (GPS) device to allow further integration with spatial data in Geographic Information Systems (GIS) and image processing systems. Differential correction was not used because the plot size was larger than the error associated with regular GPS measurements in fieldwork. In-depth interviews with landowners were conducted at each sample location to investigate land-use history and inform classifications of satellite images from previous dates (1994 and 1988). Questions were asked to ascertain when the secondary growth was last cut, clearing and burning procedures, management techniques, types of crop or pasture grown, time since the land was abandoned, and other pertinent land-use information. In total, 32 plots, 96 sub-plots, and 288 nested squares were surveyed.
3.2.2. Database implementation
A database was built to integrate all vegetation data collected during fieldwork. Its design was based on other studies with the objective of allowing comparisons through different study sites in the Amazon (CIPEC 1998). The main motivation behind this initiative was to maintain the integrity between spatial locations of every surveyed plot with vegetation characteristics as a basis for the integration with spectral data obtained from the analysis of Landsat TM images. A detailed description about image processing is included in the next chapter.
Figure 12 shows the relationships between tables in the database. The vegetation type (i.e., SS1, SS2, SS3, and forest) and spectral data were related to plot data (e.g., location and age) and its local characteristics (i.e., soil and land-use history). Plot data was also related to sub-plot data, which included vegetation structure. The latter was divided in two tables: tree/sapling data for plants with collected DBH and height; and seedling/herbaceous data for plants with collected number of individuals and ground cover.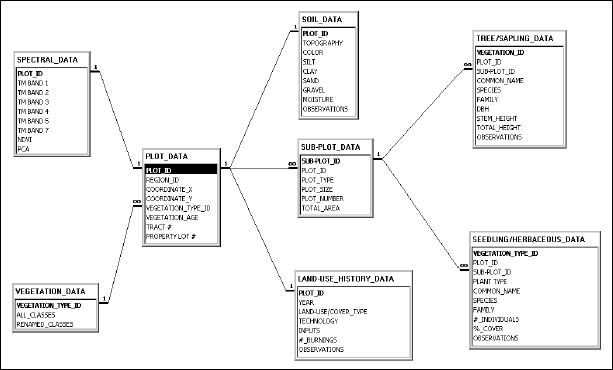 Figure 12 - Relationships between vegetation database tables for Machadinho d'Oeste and Vale do Anari.
In total, the database counted 288 records for the sub-plot data table, referring to all squares surveyed in the field. The tree/sapling table included 1075 plants with DBH greater than 2.5 cm (672 trees and 403 saplings). The seedling/herbaceous table included 249 plants.
---



---